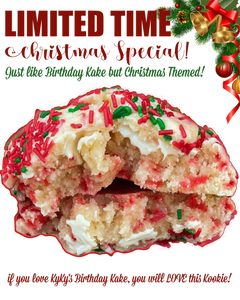 LIMITED TIME SEASONAL FLAVOUR!
Get into the Christmas Holiday spirit with KyKy's Buttery Sugar Kookie, if you love KyKy's Birthday Kake Kookie, you will love this Christmas Kookie that is Festive AF!
Red and Green Festive sprinkles and puddles of Belgian white chocolate.
Slight crispy on the outside, Soft, Buttery, Delicious on the inside, each Kookie weighs approximately 6 oz.
Kookie contains: Wheat, Dairy, Soy ingredients, does not contain nuts, however, can be in contact with nuts throughout the process.