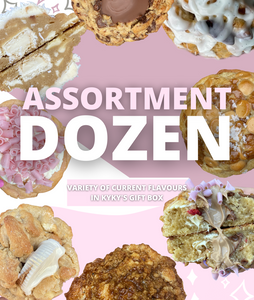 Perfect for gifting!
Bakers assortment of every one of KyKy's cookies current available flavours!
This assortment pack includes One Dozen Kookies.
In this assortment you will receive at least one of every current available flavour that you see on the website, Kookies and/or Bar (signature and specialty flavours). If you would like specific flavours — double ups, etc. please order kookies individually.  
Kookies come individually wrapped with flavour name in gift box.  
Contains: Nuts, Wheat, Dairy, Soy ingredients.