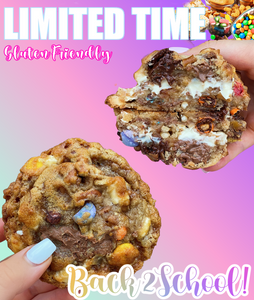 Limited Time -- Gluten Friendly Flavour
What's in a GF Munchie's Kookie?.. KyKy's Gluten Friendly Butterscotch Oatmeal Kookie, peanut M&M's, Belgian white & milk chocolate chunks, Reese's peanut butter chips, butterscotch chips.. the perfect combination for our sweet & salty lovers!
Safe to say that this Kookie takes care of all cravings when you got the munchies🤪

Contains: Egg, Dairy, Soy, Nut Ingredients. We do not bake out of a wheat and gluten free facility. Any Gluten Friendly Kookie may come into contact or contain Gluten ingredients.