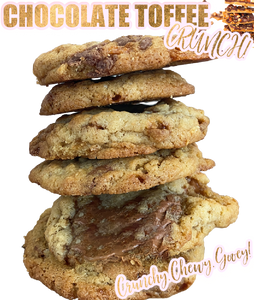 NEW! WELCOMING KYKY BYTES! YOUR FAVOURITE KOOKIES, JUST SMALLER, SNACK SIZE!
CHOCOLATE TOFFEE CRUNCH features a buttery Kookie that is slightly more crispy and chewy than KyKy's Signature Kookies.
Snack Packs come in two sizes:
SMALL: 3 KOOKIES per pack.
REGULAR: 6-8 KOOKIES per pack.
contains: wheat, dairy, soy, nut ingredients.