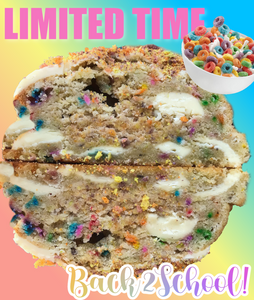 BACK 2 SCHOOL — LIMITED TIME FLAVOUR
Cereal Milk🥛🥣  — forget the bowl, grab the kookie
.
.
Cereal, a childhood favorite breakfast,.. but what about that delicious sugary milk that gets left in the bowl?!!.. 🤤
.
.
Cereal Milk Kookies have a FrootLoop cereal milk base, puddles of Belgian white chocolate, stuffed with KyKy's FrootLoop cereal milk buttercream (same colour as the dough!
.
Oh, & this Kookie does not contain any saugy cereal
🥳
contains: egg, dairy, wheat, soy ingredients. may contain: nuts.